Quick Easy Chicken Dinner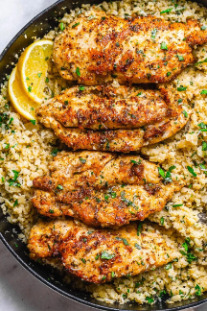 This is a super quick flavorful low calorie meal the entire family with love. 15 minutes is all it takes to throw together a full entree. It will be on the table in no time.
Garlic butter chicken with parmesan cauliflower rice; would be a favorite for the family on busy nights. The family won't have to wait very long for you to put this together so they can enjoy a delish dinner.
15-Minute Garlic Butter Chicken with Parmesan Cauliflower Rice